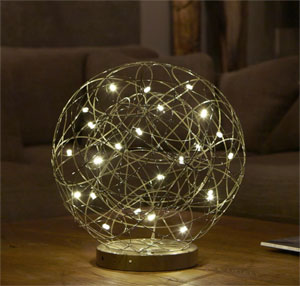 Everything began in 2005 when Novolux decided to produce high quality decorative illuminations. From its very first step in the market, Novolux is targeted at professional world. Driven by dedication to quality and originality, this brand throws a new light on illumination. Whether you are a decorator, a caterer or an event coordinator, Novolux lamps will brighten up your day.
In 2010, this brand decided to offer its creations to the public at large. Its authenticity and uniqueness delight the family and cheer up your home.
Novolux products are the fruit of years and years of research and innovation. Cassiopeia lamp is the best example of it : available in 11 different colours, this battery-powered lamp is as mobile as useful. Whether it is on or off, this accessory will accompany you in your dreams.