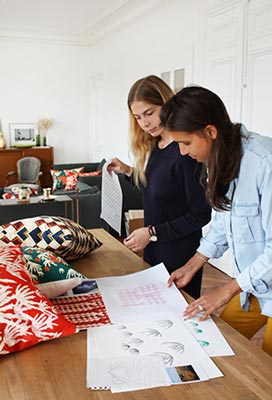 The French decoration brand Adjamée brings a fresh look at interior design, with its warm collections inspired by travel and landscapes. In search of the perfect fabric around the world, Talissa Bachelot launched the creation of Adjamée in 2017.
Everyday accessories that make you travel
Adjamée's universe is a true patchwork of the travels of her creator Talissa Bachelot. Whether in Australia, Ghana, Kenya, Ivory Coast or Peru, she brings back fabrics, graphics and patterns from each of her excursions, to transform them into decorative accessories.
Her goal: to find the perfect fabric, the one that dresses while traveling. The one that decorates and colours, without being outrageous. But each country is full of surprises and specificities: that's why after each of his trips, a new collection is born.
And in each new collection, Talissa Bachelot tells a story: the story of the country that welcomed her. She draws her inspiration from photos and memories to tell the richness of the cultures she has encountered, the colours and shapes she has been nourished by.
Cushions, mirrors, plaids, headbands and pouches are created and embellished with an inimitable ethnic charm. What makes the Adjamée brand so special is its unique products inspired by personal experiences, landscapes and encounters.
Adjamée, a colourful and respectful decoration brand
At the end of 2019, Adjamée launched its very first collection of its own, inspired by a trip to Australia. Talissa Bachelot wanted to represent it in all its splendour, with reliefs and perspectives dancing in the wind. Cushions with flamboyant patterns representing the Australian lands, planters with abundant colours, unique and diverse shapes... Adjamée's creations decorate an interior with taste, and allow you to travel by proxy.
Combining comfort and elegance, Adjamée uses only the highest quality materials, manufactured with the utmost respect, to create noble and distinguished decorative accessories. Travel is within reach!