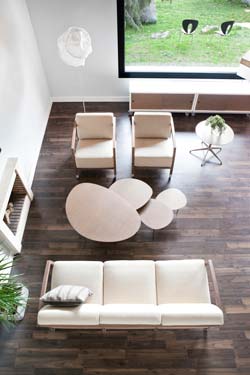 Born in Spain, the Stua brand reinvents interior furniture in a modern way. Thanks to its passion and incomparable know-how, it continues to offer products that are each more surprising than the last: coffee tables, dining tables, chairs, sofas and other consoles.

Stua, a human and environmentally conscious family business


Jesus Gasca founded Stua with Marina Quevedo in 1983 with the idea of simple, well-designed products. A team was later formed when his son, Jon Gasca, decided to join the company. As a manufacturer of contemporary furniture, the brand offers a collection of products with a light and pure design. It is rooted in the Spanish craft tradition, which allows it to bring to life products that are both timeless and modern. Designer Jesus Gasca is careful to bring character to his creations, which gives them the advantage of being absolutely unique. In a Scandinavian style, Stua furniture instantly brings a breath of fresh air to your spaces while bringing originality. We love the contemporary style of this collection, which is equally suited to office spaces, businesses or interiors.

Concerned about respecting the environment, the Spanish brand Stua reinforces its approach by using new recycling tools, solar energy for its production and clean processes such as plastic-free packaging. It also uses only raw materials from Europe. In order to be part of a sustainable production process, Stua is committed to providing high quality products that last over time.


Stua, a perfect combination of aesthetics and quality


Furniture is the pillar of interior design, and Stua has understood this! The founders have found a way to meet everyone's needs by offering products that are durable and attractive. Stua charms us with its tables, chairs, consoles or its famous Costura sofa. Their main asset? Their robustness. The designers are meticulous about the quality and aesthetics of each product, while focusing on a simple, modern design. With Stua, no detail is left to chance!

Based on simple design principles, the Spanish brand nevertheless knows how to innovate by bringing a touch of freshness to each of its products, making them timeless. It stands out in the world of design through its sophisticated creations. The Eclipse nesting coffee tables are a perfect example of the brand's identity and contemporary interpretation of home furniture.

The collection consists of pieces designed to be combined with each other, forming coherent ensembles. Simple pieces with a personality, a "touch" that makes them recognisable everywhere. The very translation of innovative and original work allowing you to rely on furniture that is as beautiful as it is durable.