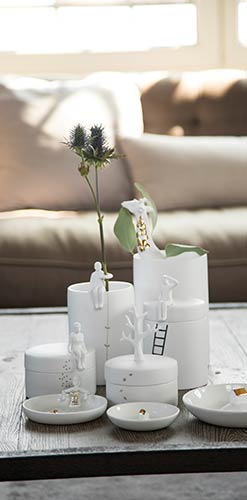 For more than 52 years now, Räder's team of professionals has been innovating and working to offer ever more elegant and surprising porcelain decoration accessories.

A team of human and professional designers

All Räder products are created with the idea that beauty is based on simplicity and detail. Made of porcelain, the decorative objects designed by Räder combine purity and distinction, and provide a serene and relaxing atmosphere that is essential to any interior design.
A true large-scale family business, Räder has creative workshops in Asia and Europe, as well as distribution points all over the world. But despite the distance, all the teams progress by collaborating: the creators work hand in hand with the marketing and communication team to design decorative objects that meet the expectations and demands of customers.
Entirely handmade, Räder's home decoration and outdoor decoration accessories are made entirely of recyclable materials. The production techniques used are based on traditional models that respect the environment and use only local products.

A wide choice of designer and elegant objects

The atmosphere of a home is influenced by its decoration, and the Räder team has understood this! This is why it uses all its know-how to achieve excellence, and to offer discreet but remarkable design decorations, available on Pure Deco. From small decorative love messages to work equipment and useful kitchen decorations, it is possible to dress each room with a touch of romantic poetry.
Love and serenity are the key words of the Räder design team, which gathers in Germany to imagine the design of the collections. These are renewed regularly throughout the year, in order to provide decorative ideas and gift ideas according to the seasons and events.
The painting on white porcelain made in a traditional way gives a warm and sweet atmosphere in the living rooms. Thanks to the sleek design of Räder products, it is possible to have a rich decoration without cluttering it up. The decorative pieces are of all sizes and shapes, so there is something for everyone. Find your happiness!