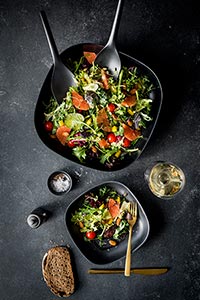 Ekobo is a French brand founded by the Franco-American husband and wife duo, Boo and Bruno Louis, the Ekobo brand honours the principles of eco-design.

Launched in 2003, Ekobo has continued to pursue its mission: to improve the impact of modern consumption on the planet. An expert in the manufacture of bamboo tableware accessories, she emphasizes a modern and refined style while favouring the use of ecological materials. The bamboo used by the brand is FSC certified, meaning that it can be harvested every three years without harming the environment.

The Ekobo brand highlights many designers with styles that are more strongly supported than the others. It draws its creative ideas from everyday life and wishes to offer practical and ergonomic tableware accessories.

Divided into several ranges: Gusto, Fresco, Prunto, as well as a collection for children: Bambino, Ekobo sells tableware accessories such as bamboo bowl, small and large salad bowl, tray, tableware box, citrus juicer....

Ekobo's mission is to manufacture sustainable, resistant and above all ecological products using materials from eco-managed, 100% organic crops.

Today, the brand not only offers its products as tableware accessories, but also as interior decoration products. Pure Deco is delighted to offer this innovative and ecological collection of products in soft and vibrant colours.