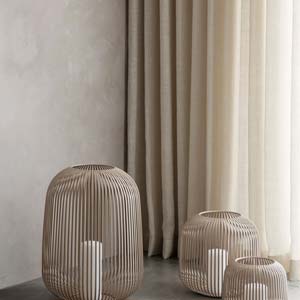 The German brand Blomus, founded in 1961, became in the 2000s a recognized reference brand in the field of contemporary interior design, from decoration
to modern accessories for the indoor and outdoor home. Blomus is passionate about
Blomus is passionate about high quality craftsmanship, combined with a constantly renewed creativity.
creativity. By using authentic materials, Blomus likes to stand out and highlight the elegance and originality of attractive and functional products. The brand blends inventiveness and timelessness through eclectic collections that offer a very wide choice of lighting, furniture and accessories for every room in our homes.

Collections combining design and high standards, for a timeless art of living

Blomus, through its innovative collections, offers a large choice of objects for the home.
Lighting, tableware, household linen, furniture and decorative objects, each collection is an opportunity to discover or rediscover the
collection is an opportunity to discover or rediscover the know-how of the German brand.
The brand focuses on all areas of the home, room by room, offering modern and functional
functional accessories designed to last over time. Blomus likes to create for today's and tomorrow's generations by promoting craftsmanship and quality.

A passion for metal and authentic materials

Metal work has been at the heart of Blomus' creations since the birth of the brand. The brand has become an expert in the creation of stainless metal accessories for the home. Metal is part of the DNA of the creations: Blomus offers collections of solid, durable design objects, with a timeless and often refined, even minimalist spirit. This specific know-how is particularly evident in the products designed for bathrooms. Stainless steel is widely used to guarantee the quality of many elegant and modern objects. Other products such as household linens, baskets and other small useful accessories have their place in the collections.

Blomus, a demanding German brand for everyday life

In addition to this specific metal work, Blomus combines it with many other raw materials
such as concrete, wood, stoneware, wicker, earthenware or linen. This mix of materials allows the collections to be enriched in an inventive and functional spirit. The brand is interested in all areas of daily life and the spaces in which we live. Beautiful furniture, such as the Avio wooden coffee table, demonstrates Blomus' passion for clean forms, pure or curved and timeless lines. The aim is to create beauty and to emphasise it so that it can be fully experienced in everyday life.

Quality production of contemporary objects at the heart of the Blomus collections

Blomus favours the quality of the materials selected, using manufacturing processes that respect the environment and its employees. Always in search of excellence, the German brand transforms materials by looking for originality in the materials chosen, working with steel - the brand's flagship material - as with the contemporary Nidea lantern model, designed with powdered steel rods. Authentic materials shaped and designed to satisfy those who appreciate beautiful, useful and functional objects to decorate their homes.
Our Blomus shop: