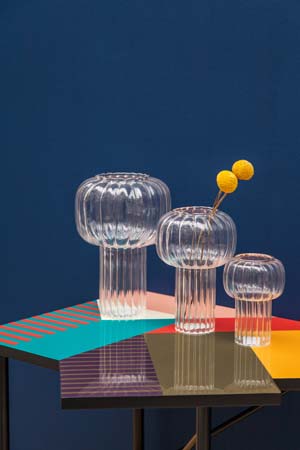 Welcome to a world of highly attractive objects! The House of Bensimon honours a beautiful art of living and invites you to think about decoration from the point of view of openness to the world and to cultures. Serge Bensimon entered the world of decoration in the early 1980s. A first boutique was opened in which he exhibited his favourites gleaned from his many travels. For over 30 years, the designer has been developing a lifestyle vision of fashion, accessories and decoration. The whole universe of the House of Bensimon is structured around a common thread: originality and quality. Discover at Pure Deco this well-known decoration brand whose each collection tells a new story...

Maison Bensimon, a chic and casual brand

Other boutiques were soon created with the creation of Home Autour du Monde, a concept store combining fashion, furniture and carefully selected designer objects. Serge Bensimon always looks for aestheticism and emphasizes the countries of the South and their bright colours. This highly innovative concept is complemented by his own creations, grouped under the Maison Bensimon brand. Furniture, textiles, lighting and tableware represent a series of high-quality collections. These collections highlight creativity and offer a universe that combines know-how and a constant search for new ideas. From casual chic to high-end, the brand is aimed at all audiences and offers prices for all budgets. In addition, it is part of an eco-responsible approach by adapting its creations and continuing to develop recycling and Made in France.

An authentic decoration that invites to travel

Pure Deco, in collaboration with the House of Bensimon, offers you inspiring objects made of noble materials, always marked by elegance. They will bring to your interior shimmering colours and a design style representative of these creations. Discover, for example, the ultra graphic cushions, for a very trendy decorative touch. Your sofas will gain in harmony thanks to their abstract or vegetal shapes. Materials used, combinations of tones, nothing is left to chance! They will delight you with their warm colours that will not go unnoticed. Other unusual products, such as snow globes, are sure to make a lasting impression. Offbeat, they will make you dream thanks to their poetic atmosphere. They will find their place on a piece of furniture or on a desk, inviting you to contemplate and travel, without leaving your home! Enter the harmonious universe of this beautiful decoration brand, resolutely in tune with the times and the constant renewal of an original art of living.