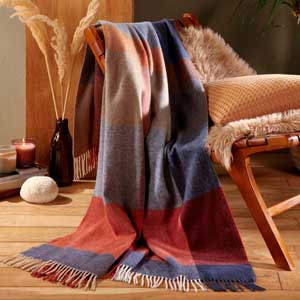 Biederlack specialises in designing beautiful plaids, cushions and blankets. Design, quality and durability are at the heart of its values. It promotes a lifestyle that values the love of interiors and the spirit of cocooning, by creating highly warm and qualitative accessories. For more than a century, the German brand has been designing high-quality throws and blankets so that everyone can enjoy creations that respect women, men and the environment.

Biederlack stands for design, quality and durability


Using trendy colours and appealing patterns, the brand creates cocooning accessories with a contemporary style and carefully selected noble materials such as cotton, cashmere and wool. The search for originality is a value that is always renewed to offer maximum comfort to all those, adults and children, who choose its products. Each one of these products is designed according to precise rules at each stage of production, in the spinning mill located in Greven, Germany. Weaving, scraping, dyeing of the fibres, so many stages carried out with the greatest care to share a unique know-how and propose original collections with soft and trendy colours. The Biederlack universe or the art of being warm and decorating your home for moments of relaxation, conviviality and sharing.

A lifestyle and eco-responsible brand that favours the spirit of cocooning and well-beingA lifestyle brand

Biederlack is committed to designing products that respect people, the environment and resources. The brand makes it a point of honour to choose textiles made from sustainable materials (the yarns used are GRS (Global Recycle Standard) certified). The brand's designs are often lightweight and very fine, with a focus on design motifs that invite cocooning. Biederlack wants people to feel comfortable in their homes and to enjoy living in the present with products that are like them. The Oeko-Tex certified accessories cover and decorate the beds, while at the same time enhancing the sofas and armchairs, inviting you to relax
Translated wi