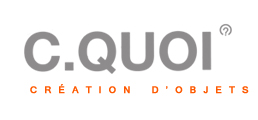 C.QUOI is the fruit of Pierre and Véronique Laubadère's association of ideas. A talented couple of designers who create and produce fun and original objects which bring a touch of poetry to your daily life. Whatever their creation, they cultivate a sense of the unexpected since "amazement leads to amusement" for them. And they do it very well!
Smooth curves and soft shapes to brighten up everyday. A saucer that becomes a handle of a cup, a trivet that dismantles into a dice set, and even a vase that can be converted into a question mark. C QUOI brings originality to everyday objects by rethinking their forms.
With their useful and flexible objects, which will fill your home with joy and poetry, C QUOI decided to revive French creativity.